Back
Continental and Mediterranean Mosaic
Gastronomy in the continental region
In the past the inhabitants of this region were mainly engaged in cattle breeding, milling and exploitation of the forest, which considerably determined their nourishment and food preparation. Traditional nourishment was based on high calorie food that was needed for the heavy work on the farm, in the forest and at home.
Food was kept on the fireplace in earthen pots, the so-called rukača pots. Bread was mostly and widely used, made primarily of corn and at the beginning baked only by covering it with ashes and live coals in the fireplace. Later baking lids appeared which are called peka. Pot makers made these of earth. Cornmeal was also prepared from cereals (corn, oats, barley and millet) seasoned with lard or sour milk.
The meal began with cheese sorts called škripavac and basa (sheep milk cheese prepared by special procedure), smoked bacon or prosciutto and ham, ending with doughnuts or homemade sweet bread. The main meal was and still is a choice between lamb soup with smoked meat, smoked lamb shoulder joint with sauerkraut or sour beet, or cabbage with ribs and sausages. You can try strip noodles with mushrooms, as well as spit-roasted lamb or pork as well as the meat prepared under the baking lid. There is also venison, stuffed veal breast, breaded frog legs or Gacka trout prepared in various ways.
.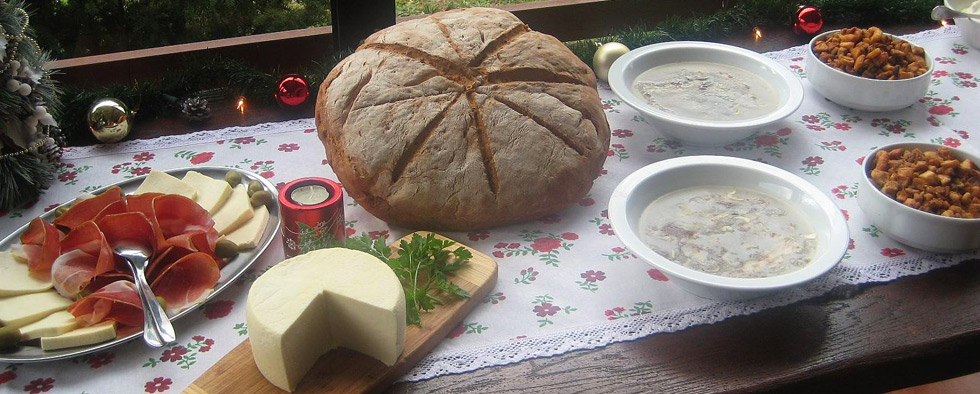 Gastronomy on the coast and Pag Island
Throughout the centuries the inhabitants of the island of Pag have prepared food that could last for a period of time and could be easily taken into the fields, sea and similar places. The islanders' menu was conditioned by their way of life that was always connected to salted meat and fish, cheese and curd cheese.
The lamb had a special place in the poor coastal regions. It could survive on the dry rocky ground, feed on aromatic herbs; sheep gave wool and milk for cheese, meat was dried and during the winter served as prosciutto ham for seasoning maneštra (thick noodles). Young lamb was prepared on special occasions as a symbol of sacrifice: weddings, baptisms, Easter. Even today the lamb has remained as the coastal symbol of the best and biggest feasting offered to anyone. Nowadays it is primarily spit-roasted and bear in mind that discussions on how to roast and turn it, what type of wood to use and what kind of coating can last for hours. The old charm can still be felt in taverns and restaurants with open fires where trays are filled with lamb and potatoes baked under the baking lid covered with live coals. Island lamb has a special taste due to the proximity of the sea and salt that the animals absorb feeding on rare wild plants, grass types and fragrant plants used for seasoning.