Lika-Senj County, considering its unity and diversity, can be divided into four regions: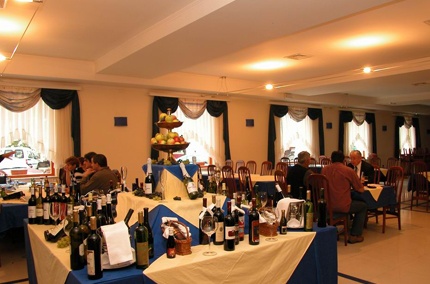 Hotel ANA
53000 Gospić, Zagrebačka 18, tel.: +385 (0)53 560 358
Hotel Ana was opened in March 2003 and in a short period guests and travellers on business or vacation trips in search of a bed and good meal have noticed it. The restaurant is part of the hotel and can accommodate a large number of people.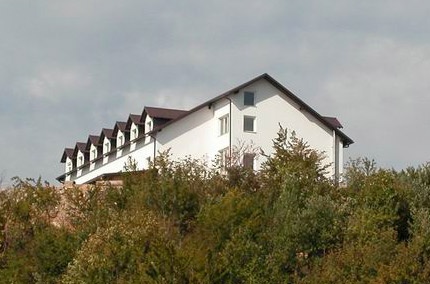 Hotel DEGENIJA KRASNO
53274 Krasno Polje, tel.: +385 (0)53 851 205
KRASNO PARISH OFFICE – tel.: +385 (0)53 851 007
Krasno fields are dominated by a new hotel complex with restaurant built next to the shrine at sea-level height of 1000 m. The hotel disposes of 35 rooms (single, double and three-bed) with a total of 80 beds. The restaurant offers natural food and home specialties.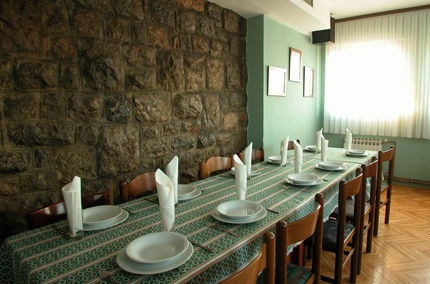 Restaurant MOST
53000 Gospić, Budačka b. b.
tel.: +385 (0)53 575 512, mob.: +385 (0)91 518 3513
The restaurant lies 4 km from Gospić center on the road to Otočac, on an interesting spot by the bridge across the Lika River. Surrounded by a pleasant ambience, with seating on wooden benches on the summer terrace or in the interior of the restaurant during the winter you can taste food prepared under the baking lid - veal, veal knee-joint, or spit-roasted meat such as pork or lamb.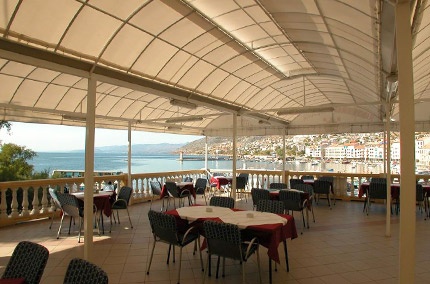 Restaurant KREŠIMIR
53270 Senj, Obala kralja Zvonimira 10
tel.: +385 (0)53 881 185; 881 906; 885 247
The "Pearl" of Senj city is what the restaurant is called. You can easily notice it by the yellow building right next to the bus stop. The terrace is roofed, pleasant and air-conditioned during the summer. It is an excellent place for wedding celebrations, various anniversaries or tourist group accommodation. The choice of seafood and fish is very rich as well as the meat specialties. The variety of tasty wines is manifold and will satisfy even the most squeamish.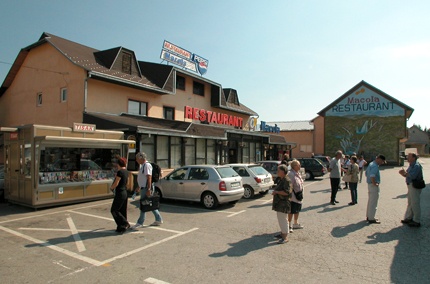 Restaurant MACOLA
53230 Korenica, J. Jovića b. b.
tel.: +385 (0)53 776 170
Restaurant MACOLA is situated in the proximity of Plitvice Lakes, in the town of Korenica, at 165 km from Zagreb on the road towards the seacoast. The restaurant is a regular stop for bus drivers on their bus trips or tourist excursions. It can accommodate a great number of guests stopping for a break. There are two rooms in the restaurant, a self-service for 300 people: guests are offered a great number of dishes, à la carte dishes, homemade bread and cakes.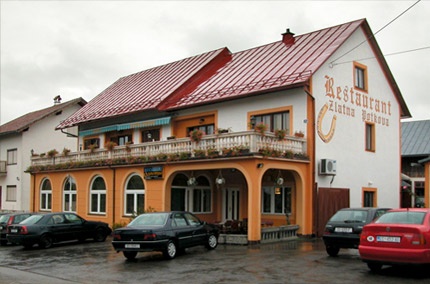 Restaurant ZLATNA POTKOVA
53000 Gospić, Smiljanska 24
tel.: +385 (0)53 573 692, mob.: +385 (0)98 245 634
The restaurant has been open since the year 1978. It received its name from the horse of the owner, Ivan Jovanović, who used to work as a lumberjack. Memories of his previous job have been preserved on the walls of the restaurant as they bear a drawing of the faithful animal on them. Zlatna potkova (Golden horseshoe) is open all year and every day at noon it offers warm spit-roasted lamb from the Lika region. One can choose any other grilled meat meal or the winter specialty from Lika which is sauerkraut and meat. For those who wish to choose a lighter meal the house recommends trout from the river Gacka or Dalmatian squid.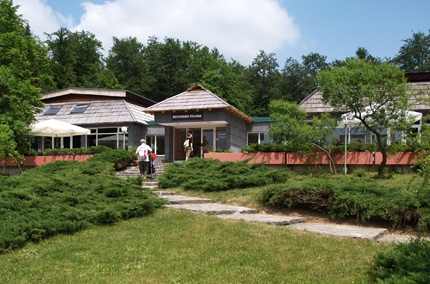 Restaurant POLJANA
NP Plitvica lakes
Poljana restaurant is located at Velika Poljana on the road leading from Entrance 2 toward the lakes. The restaurant has a bar, a self-service section with a seating capacity of 120, and a national cuisine restaurant with an open fireplace of a capacity of 100 seats. Its terrace offers a fantastic view of the Upper lakes and the abundant flora and fauna surrounding them. The self-service and bar are a pleasant refreshment stop. The restaurant offers traditional Croatian cuisine.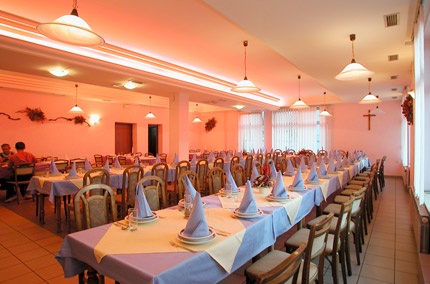 Restaurant MAKI
53000 Gospić, Budačka 200
Built on the foundations of a family tradition restaurant Maki has been, for more than three decades, one of the leading establishments of Lika region catering and gastronomy.
The peasants' dinner from Lika has been a synonym for preparing food like one does "at home" which today is sought for and highly appreciated way of preparing food. Restaurants similar to this one are now promoting indigenous cuisine, which has been forgotten but is now living its revival. It has placed it in the menus of all restaurants. The indigenous specialties are - lamb, ham and cheese from Lika, čvarci (fried pieces of pork fat), kulen (krvavice, a type of homemade sausage using pork meat and corn flour), basa (soft cheese), homemade marmalade and plum jam. The šljivovica, special homemade plum brandy, blueberry brandy and Velebit beer must be mentioned - all this comes with a friendly smile that will keep everyone coming back for more.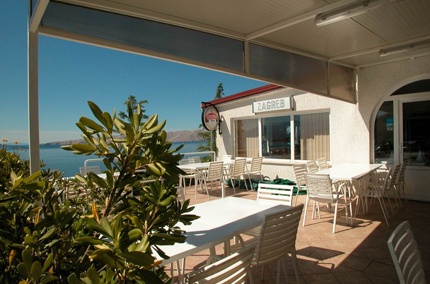 Restaurant ZAGREB
53270 Senj, Pavlinska 1
tel.: +385 (0)53 882 533; faks: +385 (0)53 881 138
mob.: +385 (0)98 424 857
Restaurant Zagreb is located at 3 kilometers from Senj on the right of the road towards Rijeka. The terrace is enclosed with glass and offers a delightful and sunny view of the sea. The tasty specialties consist of carefully prepared fresh fish and a variety of meat meals served by pleasant and polite personnel. During the summer the terrace offers cool refreshment.
Restaurant BORJE
53230 Korenica, Vranovača b. b.
tel.: +385 (0)53 751 777; 751 788
Restaurant Borje is situated at the Plitvice Lakes National Park exit. It is an inevitable stop for all Zagreb - Plitvice road travelers passing by bus or car on their way to the sea. It has become a custom to stop here for a cup of coffee or an apple or cheese strudel with sour milk, depending on the time of day, for the restaurant also offers ready-made meals - self-service or à la carte. Boiled lamb with vegetables, beans and sausages, sauerkraut with homemade sausages krvavica or curried meats, even sarma (minced meat wrapped in sauerkraut leaves) and stuffed peppers, depending on the time of year - the above are traditional Lika meals that are on offer every day. A small grocery shop for supplies during your trip is next to the restaurant.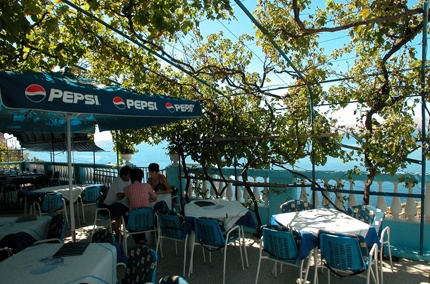 Restaurant VAL
53270 Senj, I. Senjanina 25
tel.: +385 (0)53 881 960, mob.: +385 (0)53 882 099
Restaurant Val is at a distance of 3 km from Senj. At first glance it reminds of Greek ambience. The house is of white color with heavenly blue colored doors and windows. The terrace is vine-clad and looks upon the sea. The menu has been carefully chosen, the prices of fresh fish are moderate and the obliging host is willing to offer accommodation when needed. The restaurant is open all year and is especially attractive during the hunting season in October and November when the menu offers venison specialties.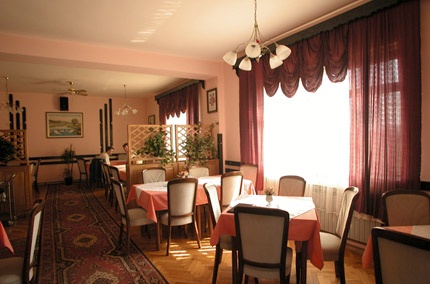 Restaurant ĆAMAR
53220 Otočac, Gornja Dubrava 22
tel.: +385 (0)53 771 558
When coming to Otočac, take the road towards Gospić and on the very exit from the city, take a first turn left and in Gornja Dubrava Street, at number 22, you will find a restaurant recommended by all lovers of lamb under the baking lid and other homemade meals of the regional cuisine. The gracious hostess Ana is the restaurant cook and she prepares meals that remind us of our grandmothers' cooking. They are simple quality meals from the Gacka region such as stewed beans and cabbage, golden baked potatoes with lamb prepared under the baking lid (peka), grilled Gacka trout, grilled meat, pork, various stews or sauerkraut with homemade sausages (krvavice) potato halves (pole). The restaurant is open all year, every day from 7 a.m. to 11 p.m.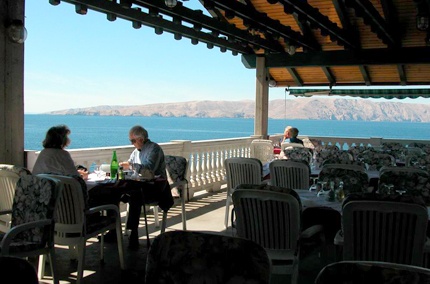 Restaurant MARTINA
53270 Senj, Filipa Vukasovića 23
tel.: +385 (0)53 881 638, mob.: +385 (0)98 796 8927 sbarbic@inet.hr
Restaurant MARTINA is situated on the Rijeka-Split highway, not far from Senj, on the seashore. It is a family restaurant with a long tradition. Open all year it entertains bigger groups on business meals or tourist excursions. There is a possibility for full board in its double rooms with bathroom. All lovers of good fish and meat are welcome, as well as vegetarians for whom special meals can be prepared.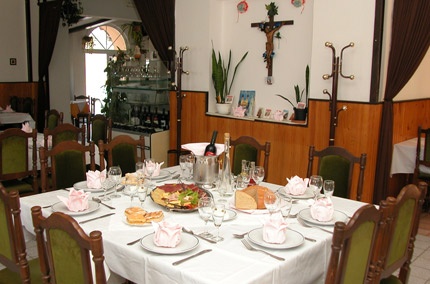 Restaurant MIRNI KUTAK
53220 Otočac, Gornja Dubrava 63
tel.: +385 (0)53 771 589
Continue down Gornja Dubrava Street until you reach number 63 where you will find a family-catering establishment made up of a restaurant and a motel under the name Mirni kutak. Guests who drop by from Plitvice Lakes to Otočac visit it, as well as local cuisine connoisseurs, hunters, anglers, hungry travellers eager for Gacka specialties in the pleasant ambience of the restaurant and its large summer terrace. The meals from the menu sound fantastic but the ones the host, Mr. Frane Markovića recommends are even better. The meals the host and his wife serve are as good as the ones that you would serve at your home family meal. They are the following: veal knee-joint with potatoes, sarma (minced meat wrapped in sauerkraut leaves), braised sauerkraut with fried cubes of homemade bacon, stuffed Gacka trout, lungs, tripe, baby-beef stew, spit-roasted hare, venison čobanac, venison with gnocchi, duck or partridge during the hunting season and many other traditional meals from the Gacka region. Before all these mentioned specialties the homemade aperitif must be tasted - plum brandy (šljivovica) or cornelian cherry brandy which is here traditionally offered as a welcome or aperitif drink.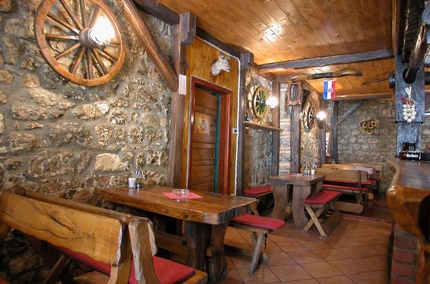 STARI GRAD Tavern
53270 Senj, Uskočka 12, tel.: +385 (0)53 885 242
Stari grad Tavern is situated in a lovely ambience of old Senj. It is open all year and is visited by all tourists or chance travellers as well as those who decide to take a break in order to visit the historical sights of the city. The menu offers a variety of food from Italian pasta and pizza to grilled meat, fish and venison.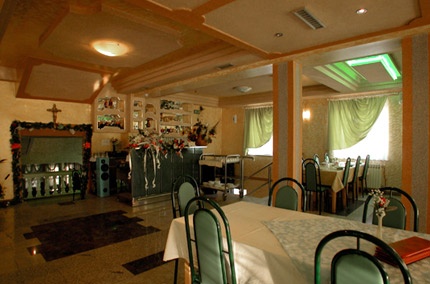 Restaurant MAJSIĆ
Čovići 108 b, tel.: +385 (0)53 761 009
On the road from Otočac to Plitvice there is a bend leading to Gospić. Once the airport is passed the following locality is Čovići. Restaurant Majsić is at the beginning of the road, on the right hand side. It offers B&B or full board in 1st category rooms. There are tennis courts for those who choose recreation. Upon entering the bistro your glance will stop at the unusual counter that is one step lower than the usual floor level. The restaurant on the upper floor is for large tourist groups on their way to Plitvice Lakes or the seashore. Plata Majsić or Majsić Tray and spit-roasted lamb are the usual offer of this restaurant.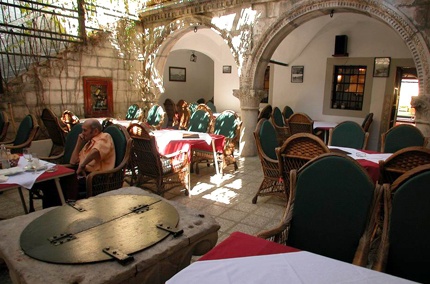 LAVLJI DVOR Tavern
53270 Senj, P. Preradovića 2
tel.: +385 (0)53 881 738; 884 266
mob.: +385 (0)98 712 531
A 16th century garden in the centre of the city has been changed into a restaurant that offers homemade food in a century-old ambience. You can choose whether to eat in the tavern cellar where an ancient bed has been changed into a table or in the covered garden terrace. Both places offer exquisitely prepared food. In the restaurant you can try the famous Senj scallop or grilled fish and meat, various types of soup, pasta and risotto.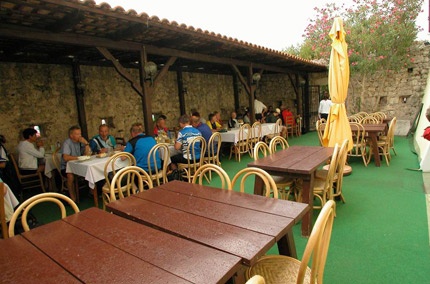 Restaurant KAŠTEL
53291 Novalja, Trg Loža 6
tel.: +385 (0)53 662 640
Restaurant Kaštel is located in the centre of the city, first in a series of coffee shops with shaded terraces. The entrance is behind the tower at the corner of the main street and the beginning of the square. The building is over 300 years old and very attractive, especially on the terrace during the hot summer days where it is pleasant without artificial cooling. In the lovely ambience the restaurant offers fish and meat specialties of all kinds wishing to please guests of refined taste (Kaštel medallions). In high season it offers daily menu at reasonable prices. It can entertain large groups of tourists that will surely carry with them pleasant memories of experiences of the taste and odour of the island of Pag. The restaurant is open from June 1st to September 15th.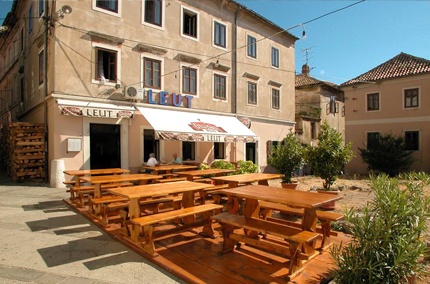 Restaurant LEUT
53270 Senj, Petra Preradovića 6
tel.: +385 (0)53 881 972
If you ask someone in Senj for restaurant Leut you will be directed to the main Petar Preradović Square and you will recognize right away the terrace with wooden benches, surrounded by flowers. The restaurant is open all year and the offer is classical meals that consist of well-grilled fish and meat.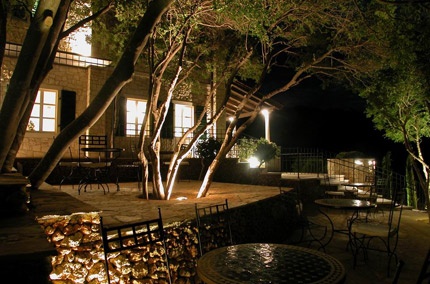 Hotel-restaurant BOŠKINAC
tel.: +385 (0)53 663 500
faks: +385 (0)53 663 501
Boškinac is settled on high ground at the top of Novalja fields, on the road between Novalja and Stara Novalja, under a thick pinewood and reaching Zaglave, a traditional pasture for sheep grazing.
The hotel is suitable for large and small private and business gatherings in a relaxed atmosphere. On the firstfloor there is a restaurant with a lovely terrace, reception, lobby, bar and a multimedia room appropriate for small seminars, workshops and team building programs for up to forty participants. On the second floor there are seven ­spacious rooms with a salon, bar and bathroom.
The restaurant offers a harmony of taste andodour based on the combination of domestic season food with regional herbs and spices. Guests can delight in the slow food offer following the Boškinac philosophy and the tasting of the best house wines. The offer includes Croatian and international cuisine and besides domestic wines there are also foreign ones. The restaurant is open to all guests and visitors who wish to feel the charm, advantage and uniqueness of the Mediterranean insular cuisine.
The tavern complex isin an interred ground floor thus creating a whole with the winery. The rustically ambience of the front part of the tavern offers ­traditionally prepared food combined with chosen wines. Regional food is offered such as Pag cheese, Dalmatian ham prosciutto, salted and marinated anchovies combined with wine. The front wall consists of niches where ­bottled wine is kept. Dalmatian ham hangs from the wooden ceiling beams and on the side shelves there is Pag cheese of strictly selected producers. Various types of brandy, from fig-brandy to herb and grape brandy are offered. The amiable personnel are always at your service and will skilfully represent the peculiarities of the cuisine and wine offer.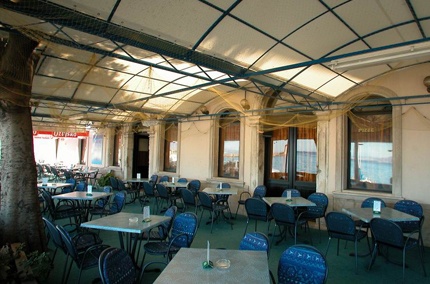 Restaurant KOŠARE
53270 Senj, Frankopanski trg 3
tel.: +385 (0)53 884 041
If you feel hunger when entering Senj from Rijeka direction you will surely park by the main road and visit the shaded terrace of restaurant Košare. You will not be disappointed for the fish or meat meal you choose will be well prepared under the baking lid or grilled. Those who ask for fast food can choose among the variety of pizzas from the baker's oven, pasta and risotto made from seafood or only refresh with an ice cream or a cup of coffee.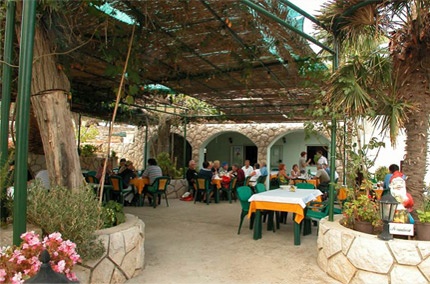 Bistro TOVRNELLE
53294 Lun, Lun 3, tel.: +385 (0)53 665 038
Tovrnelle is another restaurant located not far from the sea in the Lun cove, opposite from Jadran. There is a vine-clad terrace that is a real delight for guests in search of natural ambience. The friendly host will recommend excellent traditional food from the menu prepared by his recipes which make him recommended by many anonymous guests and some European guidebooks.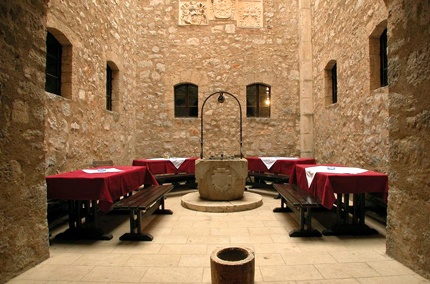 Restaurant TVRĐAVA NEHAJ
Senj, tel.: +385 (0)53 885 277; 885 244
Tvrđava Nehaj (Fortress Nehaj) built in 1558 is the symbol of the city of Senj and its rich past. Today it dominates over the city and is a guideline for the inquisitive as well as monument lovers. The interior of the fortress emits life thanks to the restaurant that is situated on the ground floor. In this genuine ambience you can have a meal "in the company of" Archduke Ferdinand, Captain Ivan Lenković and Herbert Turjaški from Senj. The tasty fish, scampi and other seafood can be eaten by the fireplace and the 11th century well. The fortress is open to visitors from April to October. The restaurant is open from 11 a.m. to 12 p.m.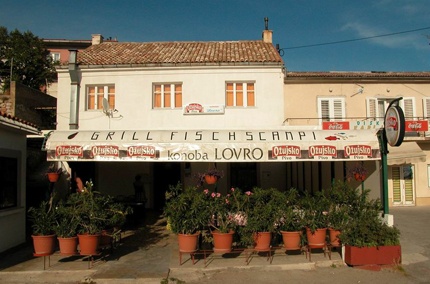 LOVRO Tavern
53270 Senj, Bunjevačka 6
tel.: +385 (0)53 882 275; mob.: +385 (0)91 503 2084
You have heard of the expression "a place where you eat well". If you come to Lovre Tavern, above the petrol station at Senj city entrance you can confirm this statement. The host, Ivan Šojat, will serve you as a real host should and he will offer in the spit-roasted lamb, the specialty of the house. Available also are abundant meals of grilled meat and fish. The tavern is open all year and orders for bigger groups can be placed in advance.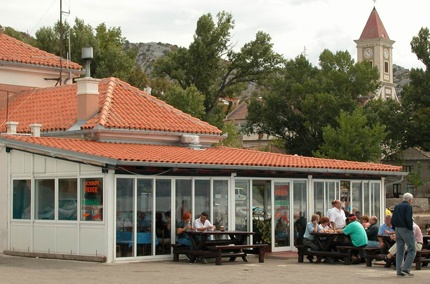 Bistro RIVA
53284 Sveti Juraj, Selo br. 2
tel.: +385 (0)53 883 159; faks: +385 (0)53 883 006
As the name says, the restaurant is located on the waterfront (riva meaning waterfront in Croatian), right next to the sea. It is open all year and the specialties offered are fresh grilled fish, trays with seafood, scampi and shellfish. It is also possible to place meat orders.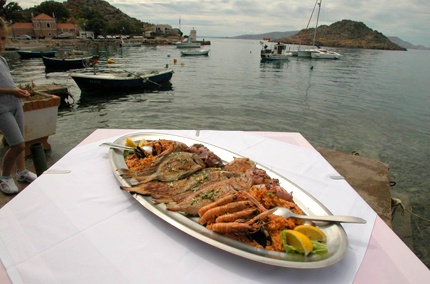 MUL Tavern
53284 Sveti Juraj, Nade Babić 2
tel.: +385 (0)53 883 007
At the entrance to Sveti Juraj there is a house right on the waterfront with a fantastic view towards the sea which you can enjoy while eating on the ground floor tavern terrace or in one of the apartments available. The tavern is open all year and among other things the menu offers freshly caught seafood that is appreciated by lovers of good fish. After your meal you can take a swim or suntan from the pier and continue on your way. If you like the spot at first glance you can rent a room or apartment. All renting and booking service is done by the tourist agency Riva, located in the same house as the restaurant.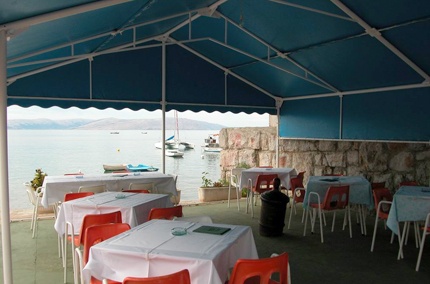 KIKO Tavern
53284 Sveti Juraj, Nade Babić
tel.: +385 (0)53 883 292
If you continue walking down Nade Babić Street, behind the house where restaurant Mul is located, you will come by a lovely small terrace by the sea, Kiko Tavern. In summer it is a very refreshing spot. Even though the tavern is open all year the summer ambience by the sea is the best one can find. Simple meals are served: grilled meat or fish, excellent pasta or risotto made with seafood. In the winter months the tavern is mainly a coffee shop that offers several types of pizzas.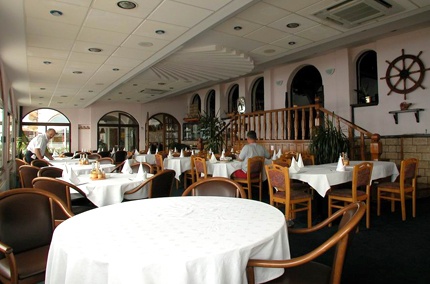 Restaurant HACIENDA
53284 Sveti Juraj, Rača
tel.: +385 (0)53 883 069
Restaurant Hacienda is located at fifty meters from Camp Rača, on the Adriatic highway towards Karlobag. It is known to all travellers on their way to the coast. Because of its excellent cuisine and pleasant ambience many B&B guests from the nearby villages drop by for a meal and drink. It is possible to rent a room for there are 6 double rooms available. The restaurant is open all year offering an exquisite and constant service deserving the highest praise.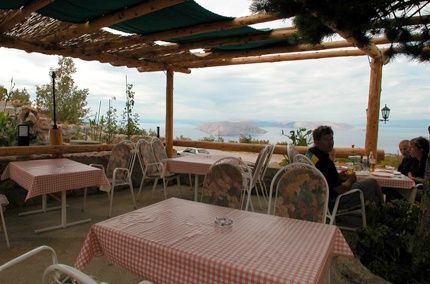 TOMIĆ Tavern
Podgorje, Ažić-Lokva
tel.: +385 (0)53 615 623
Traveling down the highway from Senj towards Zadar and following the coast you reach TOMIĆ Tavern in the locality of Adžić-Lokva. Once it was known as Vila Velebita. Even though it has changed owner this tavern has remained known to many travellers as a place where one can stop at any time from 8 a.m. to 12 p.m. and restore one's strength after a long journey by being able to have something tasty and warm at any time of the year. The food is standard: à la carte, grilled meat and fish, fast service and abundant portions in a restaurant with a view towards the sea.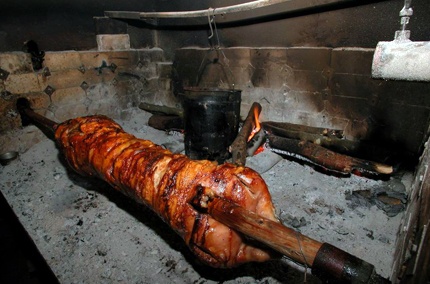 PUTNIK Tavern
53270 Vratnik, mob.: +385 (0)98 245 069
Putnik Tavern is located on the road towards Zagreb, at 14 km from Senj, right by Vratnik saddle. The smell of recently spit-roasted lamb will surely make you decide to stop for a meal. The tavern is open all year from 7 a.m. to 10 p.m. During high season it remains open even longer. Besides serving lamb the menu consists of ready-cooked food, stewed beans and sauerkraut with smoked meat that is the traditional winter food of the region.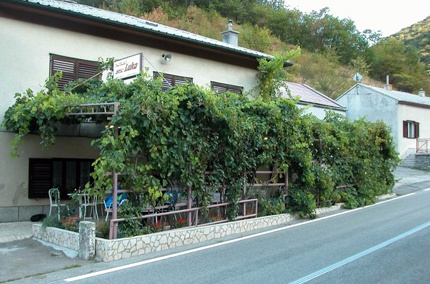 STRIC LUKA Tavern
53270 Senjska Draga, Sv. Križ, tel.: +385 (0)53 764 090
Stric Luka Tavern is located at halfway to the city Senjska Draga when one is driving from Zagreb to Senj and descending the road bend Vratnik (694 m). It has been standing on this spot for 70 years. Such a long period of family catering is an assurance that the food prepared here is simple and genuinely homemade food. Here you can always be sure that the polite host will serve homemade sauerkraut and sausages, suckling, grilled meat or other à la carte food that is surely of good quality.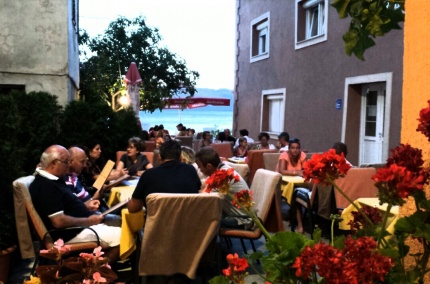 Coffee shop ADRIATIC
Karlobag, Ivana Vrbana 10
tel.: +385 (0)53 694 250
Located in the old part of the town, in a street that leads to the main square coffee shop, Adriatic is recognizable by its grilled fresh fish and meat that is of good quality, various types of pizzas at very popular prices. The polite staff will serve guests on the terrace surrounded by flowers and greenery overlooking the sea.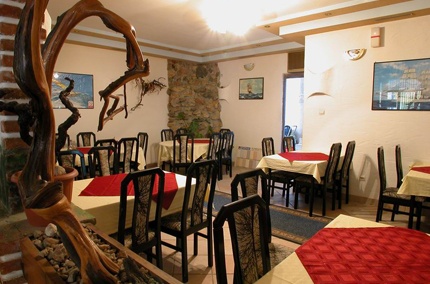 Restaurant FLORIDA
Karlobag, Ribarica 172,
tel.: +385 (0)53 886 183
The restaurant is at 6 km from Karlobag, on the road towards Senj. The establishment is still in construction so do not be deceived by the exterior because inside there is a well-decorated restaurant with a variety offer of grilled fish or meat. If you are tired from your journey and decide to remain longer ask for accommodation in one of the apartments.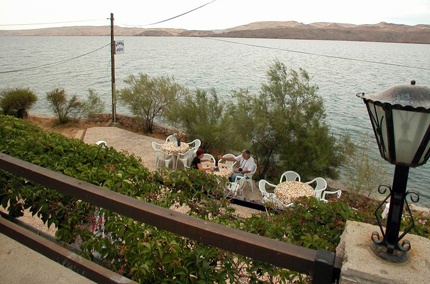 AMFORA Tavern
53288 Karlobag, A. Šenoe b. b.
tel.: +385 (0)53 694 379
This tavern is one of its kind in the Karlobag region. The hostess of the restaurant takes credit for your not noticing the old parking lot in front of the tavern and the macadam road that leads to it for she will politely offer and serve genuine meals bearing strange and fancy names: Croque Monsieur, Croque Madame, Croque Hawaii... and if you are not sure of the meaning of these words come to Amfora Tavern, sit on the terrace and see for yourself. If you are attracted by the beauty of the view you can ask for accommodation in one of the 7 rooms and 2 apartments.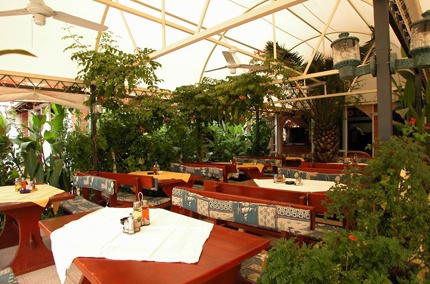 Restaurant - pizzeria MOBY DICK
53291 Novalja, Obala Petra Krešimira IV b. b.
tel.: +385 (0)53 662 488
Among the many restaurants, coffee shops and pizzerias in the main street in Novalja this restaurant, which is a pizzeria at the same time, must be singled out by its sign on an arch of white stone with a whale sculpture over the entrance. The large terrace is sheltered from the sun by parasols. In the restaurant the pleasant staff will offer a wide choice of food and drink from its permanent offer. The home specialities are: Pag cheese, Dalmatian prosciutto with homemade wines, grilled food, meat and fish plates, fresh seafood, a large variety of pasta and risotto. You will surely be marvelled by the offer 33 types of pizzas available from the baker's oven. There are many types of various types of beer and domestic and foreign wines as well as spirits.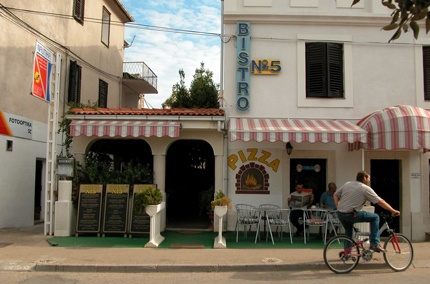 Bistro - pizzeria No 5
53291 Novalja, Obala Petra Krešimira IV br. 5
tel.: +385 (0)53 662 226
Walking down the main road in Novalja you will probably stop somewhere at the middle attracted by the aromas coming from the terrace of this restaurant which will delight you with its fantastic menu ranging from simple home meals to demanding à la carte meals. The amiable host and his personnel are at your service ready to offer the best from their cuisine. You will be very satisfied with the food prepared by experts and will surely come back if again visiting Novalja. The restaurant is open all year.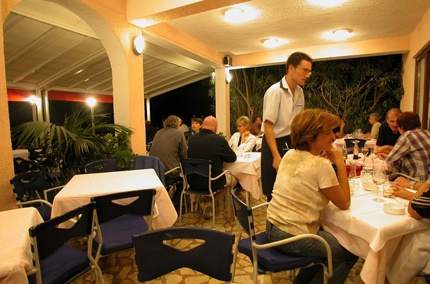 Restaurant RIVA
53291 Novalja, Primorska B1
mob.: +385 (0)53 661 965
It is among the first restaurants opened on the waterfront. In the summer months a table has to be ordered in advance or you have to wait in line for some time. The reason for this may be due to the smiling personnel and its slogan "fresh from sea to table". The satisfied guests that once taste these fish specialties always come back as regular guests. The choice of food is very rich among fish and meat specialties, Pag cheese, homemade Dalmatian ham and for dessert pancakes with wine chateau. Leave the choice of wine to your host.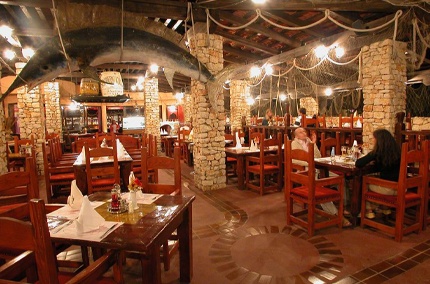 Restaurant STARAC I MORE
53291 Novalja, Braće Radić
tel.: +385 (0)53 662 423
Braće Radić Street is a continuation of the main street that diverts right form the waterfront. The restaurant is located at the beginning of the street. You will notice it right away for its boat ambience and its name Starac i more (The Old Man and the Sea). Sitting on the terrace among wooden remnants of an old sailboat and spread fishing nets you will feel as if sitting on the deck of a boat and the accompanying food will be in accordance with the sea ambience. There is a variety of food offered, cooked in various ways: grilled, boiled, baked in salt. All seafood specialties are offered: octopus, crab, cuttlefish, scampi, squid - all fancily prepared and served with a smile. The choice of wine is excellent for it offers more than 20 types of bottled wine of which some are served by the glass, and also four types of champagne that can be ordered by the glass. The restaurant is open from May 1st to October 1st. Working hours are from 12 a.m. to 12 p.m. All credit cards are accepted.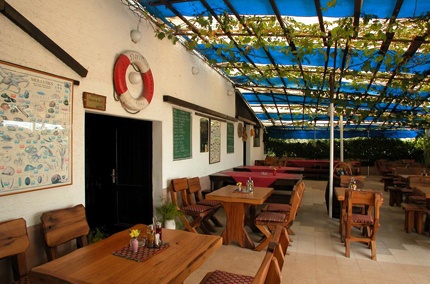 Restaurant STARI MLIN
53291 Novalja, Obala Petra Krešimira IV
tel.: +385 (0)53 662 275; mob.: +385 (0)98 1620 538
It is located at the very beginning of the road leading into Novalja. Its roofed terrace under a natural shade offers ambience that reminds of times past. There is an abundant variety of food offered, from seafood to meat prepared the old and the new way, to excellent wine choice of homemade and bottled wines.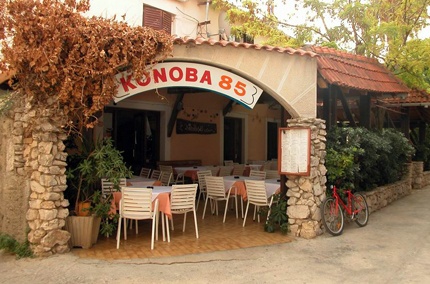 "85" Tavern
53291 Novalja, J. Kunkere 4
tel.: +385 (0)53 661 319
If strolling by the narrow streets of the old part of the city you will come by Tavern 85 which opens its door on Easter and closes on October 1st of every year. In a lovely shaded place surrounded by flowers you will relax and choose from the many traditionally prepared fish or meat meals offered.
Open from: 11a.m. - 2.30 p.m., 5 p.m. - 11.30 p.m.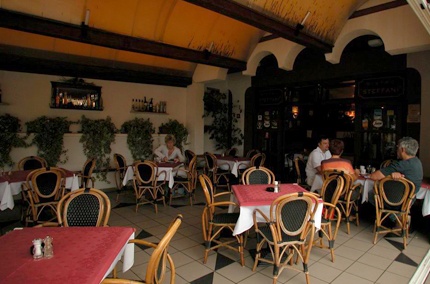 Bistro STEFFANI
53291 Novalja, Obala Petra Krešimira IV
tel.: +385 (0)53 661 697
Steffani cannot be missed for it is in the very center of Novalja. Once you have tasted the food curiosity will bring you back to try something new. There is always something new on the menu for it changes according to the season of the year. Therefore its nickname "small bistro for big gourmand delights" suits it completely. It is difficult to resist to the rich choice of asparagus and snails in spring, or a light scampi or seafood risotto, Pag cheese or pasta with tasty sauces prepared and combined by the imaginative cook. Winter asks for heavier food and Pag cheese, Dalmatian ham prosciutto, salted anchovies and dried octopus are the best choice. The wine offer is excellent for the restaurant owns a wine cellar called Boškinac, the only one of its kind in Novalja.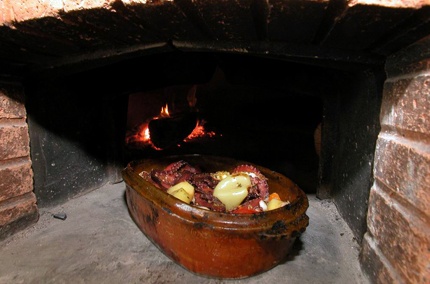 Restaurant LANTERNA
Stara Novalja, Drljanda b. b.
tel.: +385 (0)53 651 219
At the end of the road leading to Stara Novalja, in the last cove that once was a ferry landing, the restaurant Lanterna is waiting for you at the very waterfront. It is well known to all who have a boat or come from the direction of the sea. In the port that is protected from winds boats can be moored at temporary berths right in front of the restaurant. The genuine ambience is a combination of a pleasant holiday with swimming, sun tanning and eating, all in the same place. There is an excellent choice of fish, seashells, fresh scampi for which you can see for yourself that they have been freshly taken from the sea. There is also something for those that are not fish lovers but inclined to eat a pizza, pasta or risotto after which they can again take a dip into the sea. The restaurant is open from 10 a.m. to 12 p.m. from the beginning of June to the end of September.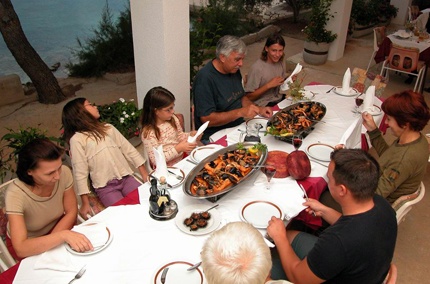 Restaurant ARKA
Stara Novalja 159, tel: +385 (0)53 651 125; mob: +385 (0)91 5301 603
This unique restaurant is located by the sea in the middle of the cove in Stara Novalja. The point of direction for reaching it is the tourist office whose signpost can be seen from all directions. Walking along the waterfront "lungomare" you will not be able resist and not sit on the large terrace where kind hosts await with their exquisite culinary offer. Besides excellent Pag cheese of its own production the restaurant offers sea specialties that one would never believe to be eatable as, for example, sea-urchins which you avoid in the sea during the day will be a delight when offered as appetizers and the sea egg of which you may never have heard must be tasted for it is qualified as a special aphrodisiac. There are also the traditional fish and meat meals, buzara made of seafood and sea snails salad. All is prepared with the love and devotion of Sekana Pekanić, the main cook.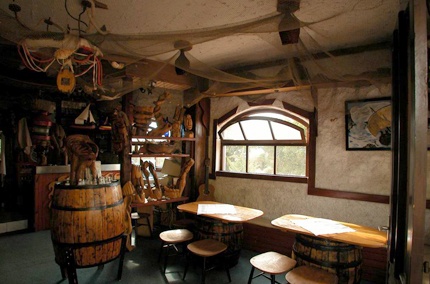 BONACA Tavern
53294 Lun, tel.: +385 (0)53 665 079
mob.: +385 (0)91 560 7485
Bonaca Tavern is a pleasant surprise for the eye and palate. It is located on the road leading from Novalja to Lun. The house with the tavern has a large terrace under the shade of olive trees and parasols where many types of food are offered. The family restaurant has a daily offer of fish from its own catching grilled in its yard, seasoned with the well-known Lun olive oil. There are also meat specialties in the offer - steak, chops with various salads and side dishes. While waiting for your food to be set you can enjoy in the pictures and sculptures exhibited in the gallery restaurant. They are masterpieces of the artist and one of the tavern owners, Darko Šegota. At the same time the sounds of a guitar and the penetrating voice of the owner coming from the other side of the tavern will attract your attention and complete the atmosphere of this small Dalmatian village. The tavern is open during the summer months from 12.a.m. to 2 a.m.
JADRAN Tavern
53294 Lun, Lun 37
tel.: +385 (0)53 665 053; 665 007
Jadran is a small tavern in the lovely locality of Lun, at the very end of the island of Pag. The tavern seems to have always been in the village and at the service of its inhabitants during the summer months. The terrace overlooks the sea and is a place where you can enjoy the homemade specialties you order and quench your thirst with a view of the sunset and the boats and sailboats setting in the small port in the cove in front of you.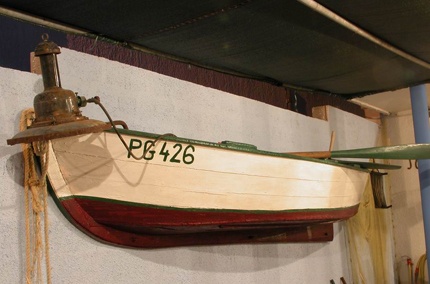 RIVA Tavern
Metajna 129
tel.: +385 (0)53 667 135
Metajna tourist village is located at 12 km from Novalja, in a sheltered cove on the north-eastern side of Pag Island. During the tourist season there are 7 open restaurants in the village. They all offer home-specialties and à la carte food. One of them is Riva that is open all year. It is well-known not only for its home-specialties but also for the performances of music groups that take place there during the summer season. In the restaurants you can taste the following specialties: all types cephalopods, fish and shellfish, all fresh and directly from sea to table. There is, of course, Pag lamb, Dalmatian prosciutto and Pag cheese along with homemade white wine Žutica, marc brandy or sherry, depending on the food.