Back
Top 10 dishes you need to try in Lika
GASTRO SUGGESTIONS

In the continental region meat such as air-cured meat, smoked Lika prosciutto, mutton, boar meat or paprika flavored sausages, blood and various meat sausages are usually prepared and eaten as hors d'oeuvres or added to various foods such as cabbage, beans, stuffed sauerkraut (sarma). Various processed meats, jelly or, as the inhabitants of Lika call it, dželadija, veal thymus or pork cracklings are also widely prepared. In fishpond Leko in Sinac near Otočac one can find an entire variety of trout products, smoked or marinated fillet, and an excellent specialty, trout caviar.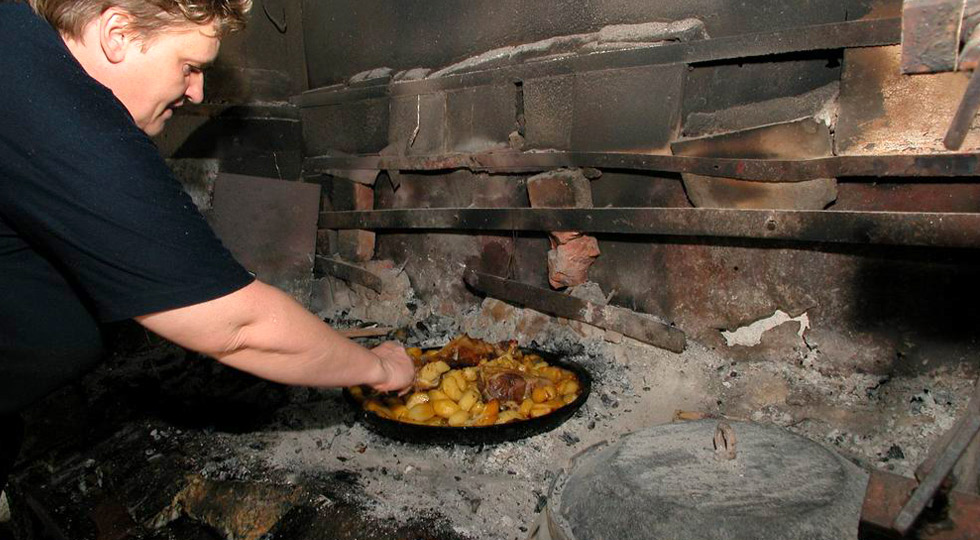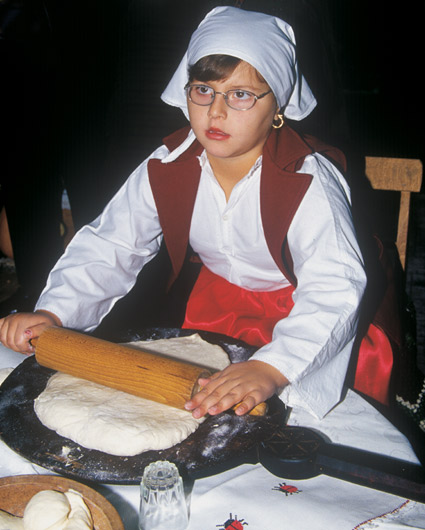 On the Gacka River in Sinac there is a renewed mill where one can see how wheat was once ground. Bread was once baked by covering it with ashes and live coals from the fireplace, and later, with the use of a baking lid, bread under the baking lid became a specialty.
Developed cattle breeding enriched the Lika table with excellent dairy products, particularly milk. Milk is eaten fresh or sour (varenika or kiselina), often with bread soaked in it and with it come butter, cream, cheese. The famous Lika škripavac (semi-hard cow cheese made from skimmed milk) is used for making the traditional cake called presnac, then we have the very tasty cicvara made of cornmeal boiled in milk and butter and the well-known sheep cheese known as the Lička basa (sour milk or cream added to boiled milk, and once hardened placed in a clean gauze and strained).



A somewhat modest offer of vegetables is compensated by their excellent quality. These are oven-baked potatoes (pole), boiled potatoes, sauerkraut, beans, turnip and kohlrabi.

Sweets and pies are traditional and the most well known is masnica (greasy dough filled with cheese, sweet cheese with raisins or garlic and prosciutto in the salty version), potato pie, spinach pie, kuglof (pound cake) and strudel. And at the end of the feast come the famous fritule (batter-fry dough fried in oil covered in sugar).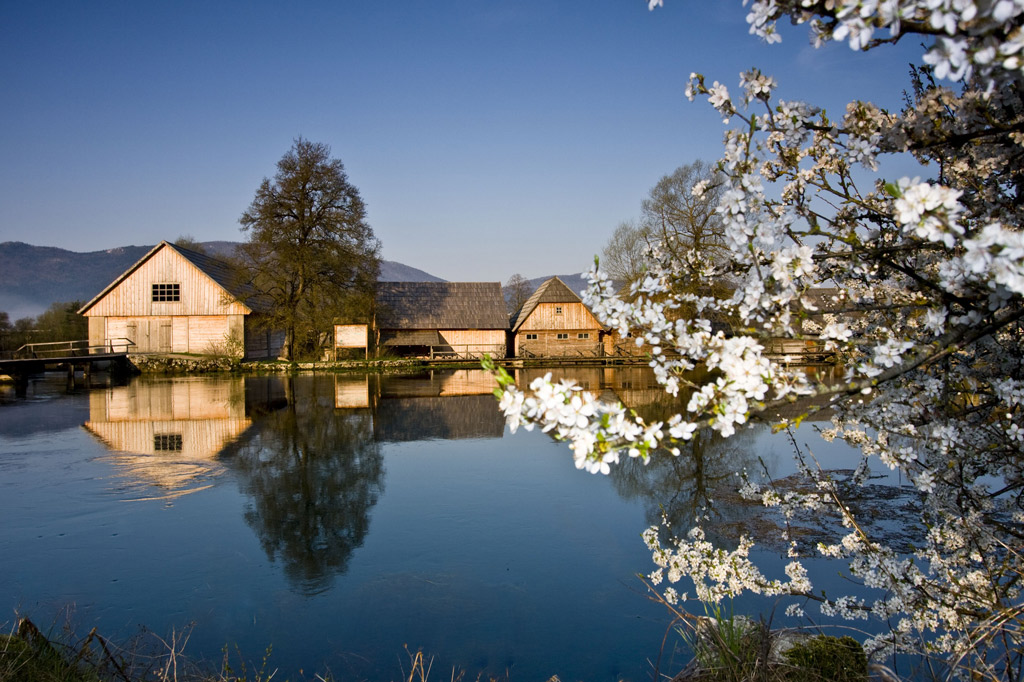 10 recipes for dishes in Lika


1. Crumbled polenta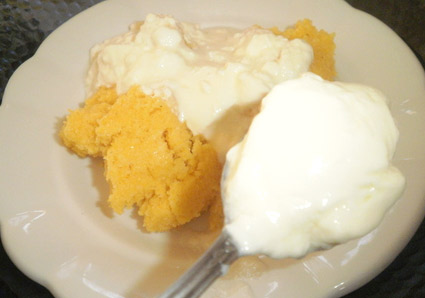 (4 people)
1 kg homemade corn flour
3-4 l water
a pinch of salt
Pour 3-4 liters of salty water into a large pot. Once it boils add the corn flour all at once in order to get a lump in the middle of the pot. Pierce the flour lump with a ladle and let it boil. Drain part of the water. Cook for almost 1 hour stirring continually.
Advice: to be eaten covered with milk, white coffee or sour milk. It can be seasoned with tiny pieces of fried pork lard called čvarci and served with sauerkraut.

2. Pole
(4 people)
10 potatoes (from Lika)
a pinch of salt
Wash whole unpeeled potatoes, slice them lengthwise, add a pinch of salt and put it into a warm oven. Pole are ready when the cut part of the potato has a nice gold crust and the potato becomes soft.
These potatoes can be eaten with cold bacon, garlic and cheese varieties from Lika (škripavac and basa).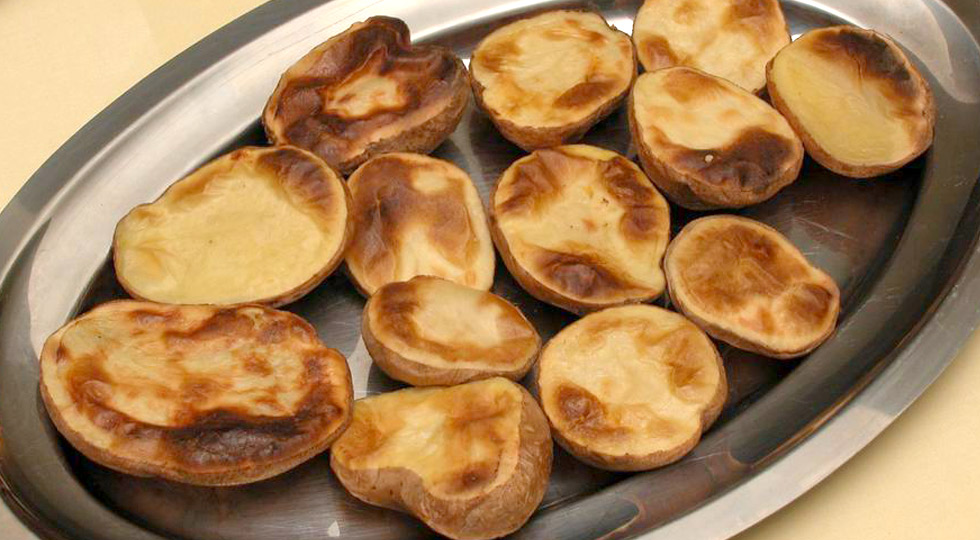 3. Beans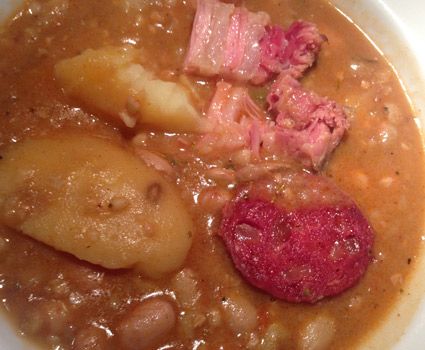 (for 4 people)
1/2 kg beans
1 onion
1-2 garlics
3 spoons of lard
2 spoons of flour
a pinch of salt
Clean the beans, boil, drain and put them into clean water to be boiled once again. Finely chop the onion and add it to the beans. Add finely cut garlic and before the end add flour with lard and oil which was quickly browned in the separate pan. Barley porridge, pasta, sauerkraut and turnip can be added. While the food is cooking some bacon may be added.
4. Lika pot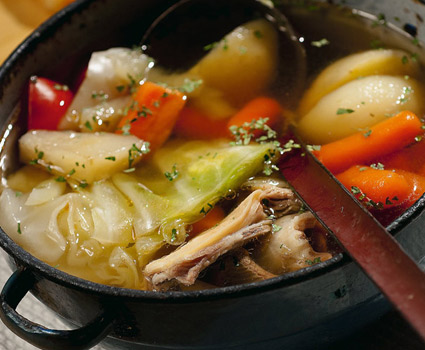 (for 4 people)
1 kg lamb or sheep meat
vegetables (carrot, parsley, celery, peppers, tomatoes and sliced potatoes, roughly cut grated cabbage)
Put all the ingredients into water and boil them. Add the cabbage at the end along with a handful of salt or garlic. Side dish can be unpeeled boiled potatoes, sautéed potatoes or polenta (corn porridge).

5. Lamb in three ways
Spit - roasted lamb
Salt the lamb two hours before it is placed on a spit and the roasting has started. While roasting, continually turn it and smear it, sometimes with a piece of cloth dipped in salted water. Nowadays it can also be beer. In some places this is done with smoked ham. It has to be roasted for about 2 hours - depending on the size. Pierce the lamb leg with a sharp knife to check whether the roast is ready or not. Clear liquid, without any mixture of blood, must come out.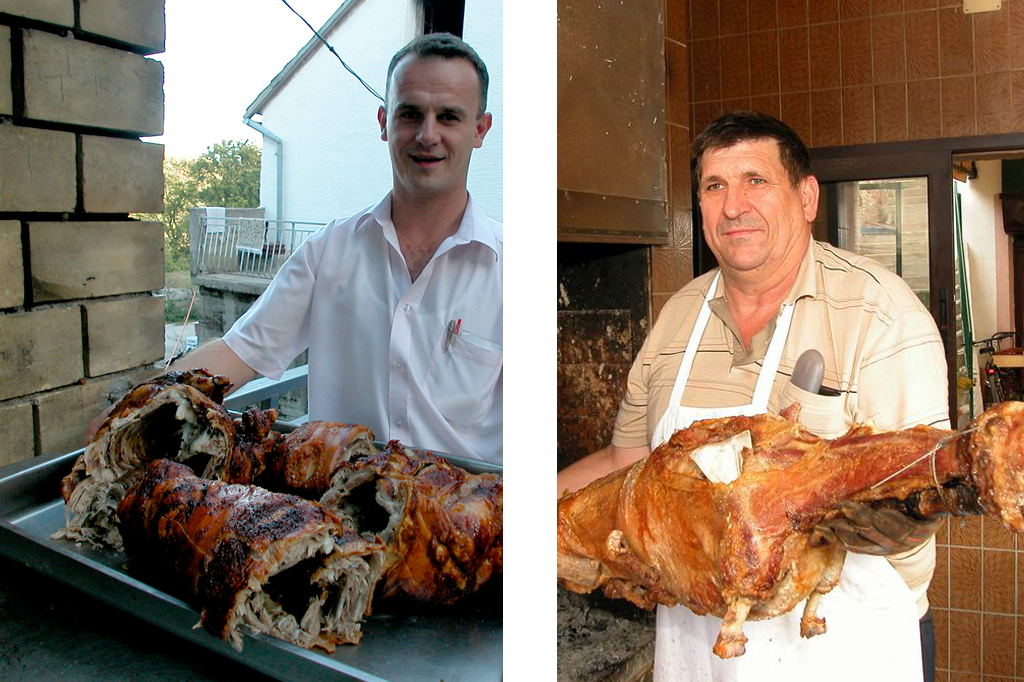 Lamb under the baking lid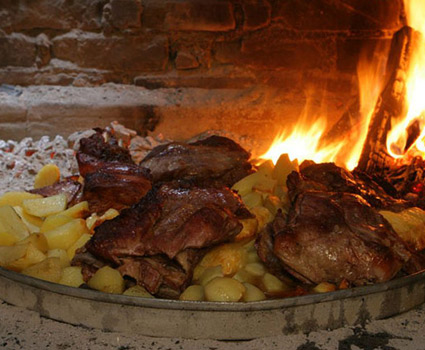 Old-fashioned way of lamb
Place the lamb in cold water and bring to boil along with peeled potatoes cut into large pieces.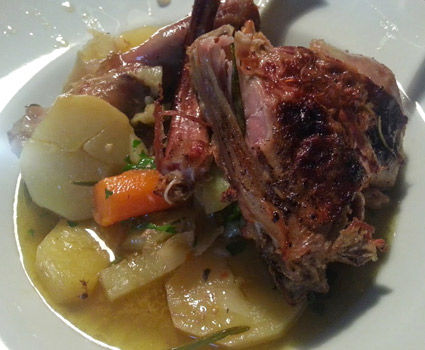 6. Sauerkraut with smoked meat
1kg sauerkraut
1/2 kg smoked pork or wether
1 Lika kulin (kulen)
a piece of bacon
Wash the meat well before adding into a pot with sauerkraut, kulen or bacon. Cook at low temperature for 2 hours until the meat becomes soft. Unpeeled boiled potatoes can be a side dish.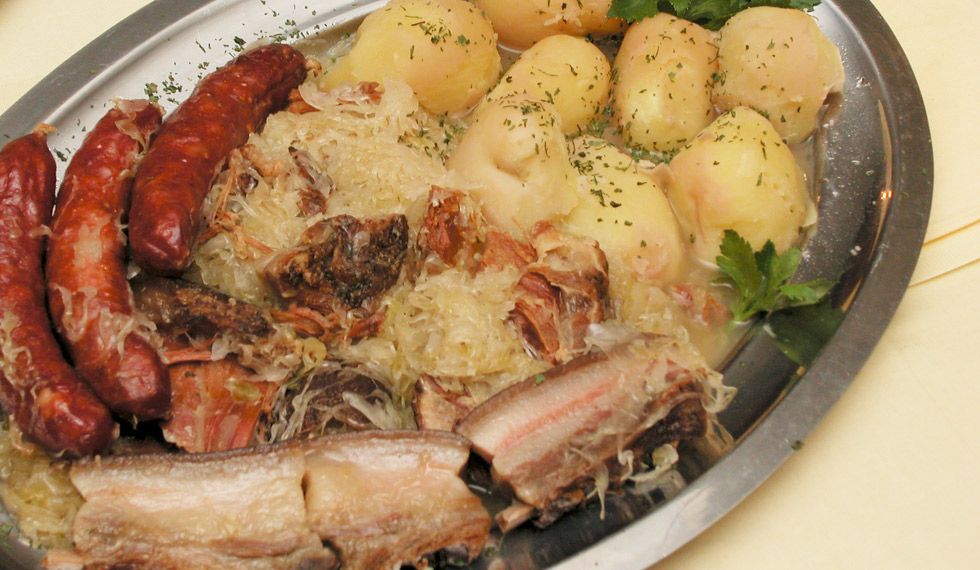 7. Lika kulin (kulen)



Pre-prepared dried or smoked meat and ham.




8. Fried trout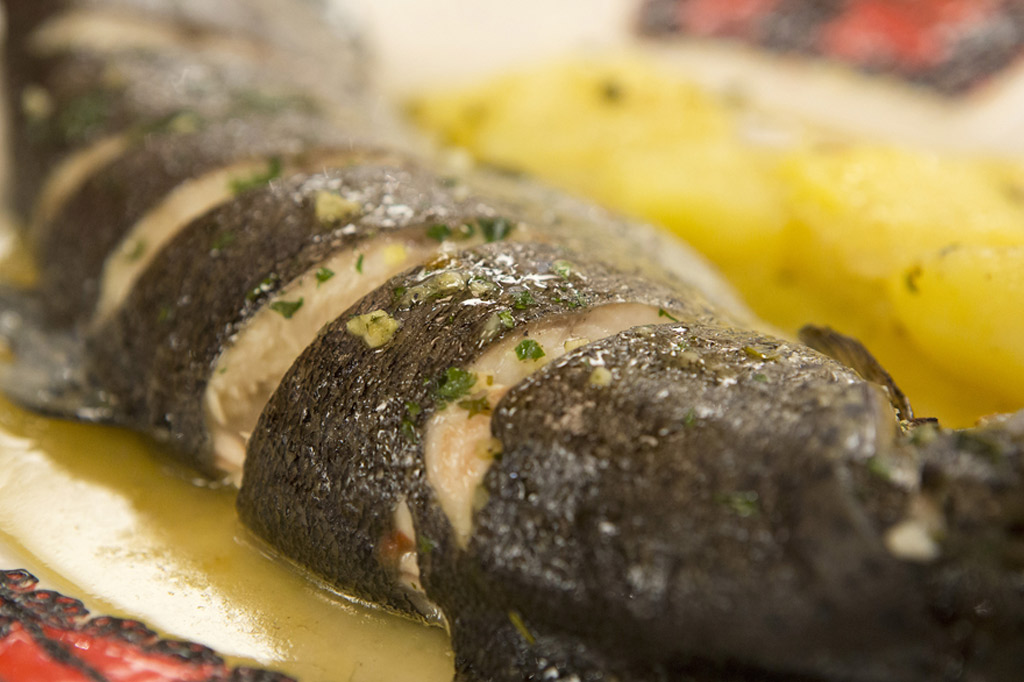 Fried trout
Clean the trout. Salt it and flour it with corn flour. Fry until it becomes golden. The trout can also be breaded. To do this cut it into pieces, add salt, dip it into flour mixed with eggs and then fry in oil.

9. Cheese and other milk products
Skin milk
Put boiled milk in a warm place for one day. Remove the skin (cream) from the surface with a spoon. The cream is gathered for a number of days and in order to preserve it a bit of salt is added. Sheep or cow milk can be used.


Basa from Lika
2 l sour milk
1/2 skin milk
a pinch of salt
Boil and then sour the milk. Drain it using a cloth. The drained milk is mixed with the skin milk and salt is added.

Škripavac cheese
The cheese is taken out of the mold while it is still soft.

10. Sweets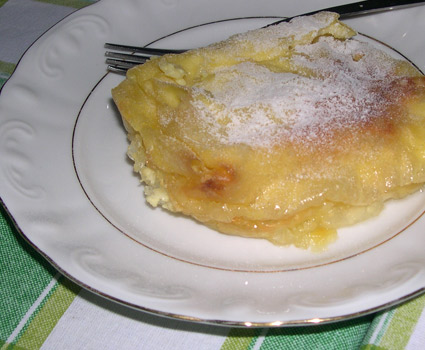 Strudel
40 dag flour
a pinch of salt
lukewarm water
The dough must be rolled (spread) to become very thin. Then cover it with a layer of cheese or grated apples and roll it.

Doughnuts
3 eggs
1 spoon of oil
3 spoons of sugar
about 1/2 kg flour
1 dl milk
lukewarm water
1 dry yeast
First mix the eggs with sugar, oil and yeast. Add milk and flour. Slowly pour in water until the dough becomes firm. Then stir it well using a wooden ladle until bubbles appear. Keep it in a warm place until it becomes double its size. Dip into the dough with a spoon and fry it in heated oil or lard.